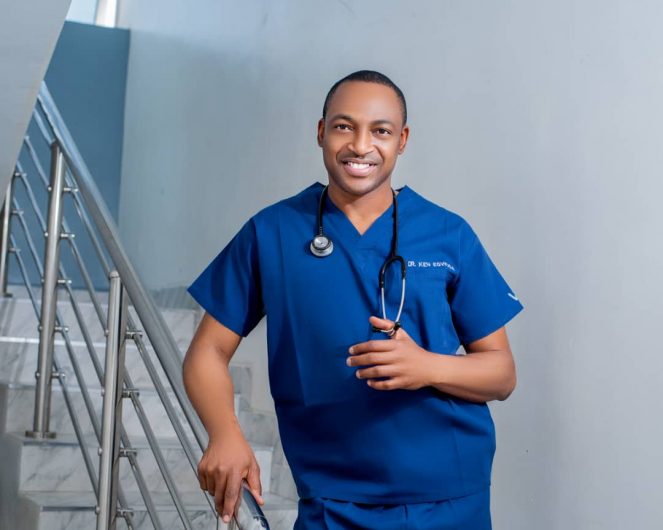 Kenneth Egwuda, MD.
Chief Medical Consultant
Dr. Kenneth Egwuda MBBS, FWACS, PGA-ART (London) FMCOG, DMA (London), MCP (USA), FMAS (India), FICS 
Dr. Kenneth Egwuda is a consultant Obstetrician and Gynaecologist, an IVF Specialist, a Minimal Access Surgeon, and a Reproductive Biologist. He is the MD/CEO of Africa's premier hospitality-based fertility clinic – Alps Hospitals and Diagnostics.
He pioneered the Ovarian and Testicular rejuvenation procedure (using stem cells) in Nigeria. He also pioneered the practice of Invitro Fertilization (IVF) in Plateau, Kano, Kaduna, & Adamawa States in Nigeria.
Trainings & Achievements:
His medical career began in 2004 when he graduated from the Medical School of the University of Nigeria, Nsukka. He completed his residency training at the University of Jos Teaching Hospital, Nigeria, where he became a Fellow of the West African College of Surgeons, and a Fellow of the Medical College of Obstetrics and Gynaecology. 
His initial drive into the world of Gynaecology and Assisted Reproductive Technology (ART) started in 2006 when as a young medical doctor, he joined NISA Premier Hospital, Abuja, as a medical officer. The hospital was headed by Dr. Ibrahim Wada who pioneered Assisted Reproductive Technology in Nigeria. The opportunity to train under a renowned expert of that class made him consider a career path in ART. The years that followed saw him undergo extensive studies around the world in the light of this 'new passion'.
In 2013, he was at the centre for Human Reproduction, University of Warwick, Coventry, the United Kingdom under the supervision of Prof. Geraldine Hartshorne who is a renowned expert in the fields of Clinical Assisted Conception Treatment and Embryology. This fanned the flames of the already ignited passion and gave the World-class knowledge and experience needed to dive fully into the field of reproductive medicine.
Upon return to Nigeria that same year, Dr. Kenneth founded the then Gynaeville Specialist Hospital, and in collaboration with other doctors and embryologists, started ART/IVF in Plateau State, Nigeria. 
2014 through to 2015 gave him a deeper insight into the practise of IVF/ART as he trained at the Gynaepro Educational in Bologna, Italy.
Driven by the desire to operate with more effective and efficient techniques that will guarantee better treatment and surgical outcomes, he trained as a minimal access surgeon under Prof. Joseph Ikechibelu of the LIFE Institute of Endoscopy Nnewi, Nigeria.
In the pursuit for excellence in practice, he proceeded to India where he trained under Dr. Prashant Bhamare who was one of the country's most renowned Advanced Gynaecological Laparoscopic Surgeon. There, Dr. Kenneth Egwuda got the needed mastery in minimal access surgery.
In 2017, he took fertility treatment to a whole new level when he adopted the novel hospitality-based approach to fertility care at Alps Hospitals and Diagnostics, Jos – a fertility hospital he founded. The record of the 63 year old delivery of a first time mum through IVF in the year that followed, and over 1000 deliveries to this point is a testament to Dr. Kenneth Egwuda's expertise and Alps position as Africa's center for excellence in reproductive medicine.
Dr. Kenneth Egwuda has shadowed in renowned fertility centers across Europe and currently serves as a part-time consultant in various clinics across Nigeria.
In 2018, he was the only practicing Gynaecologist from Africa that was present when the bill for the safety of Assisted Reproductive Technology was read in the British House of Commons. Also in attendance was M.s Louise Brown who is the first IVF baby in the world.
The quest for excellence drove Dr. Kenneth Egwuda to several specialty studies in renowned fertility centers across Europe and Asia. He trained at the International School of Laser Gynaecology, Sofia, Bulgaria under Prof. Sergio Haimovich who pioneered the use of medical laser in office hysteroscopy. This made him the first Laser Gynaecological Surgeon in West Africa.
In addition to an excellent pedigree in reproductive medicine, Dr. Kenneth Egwuda is a Leadership and Management consultant. He holds a Doctorate Degree in Business Administration (specializing in Healthcare Management) from the London Graduate School alongside several certifications from around the world.
He is passionate about women healthcare and Africa's health revolution. He mentors young medical professionals, as well as young adults in tertiary institutions across Africa through the mindset revolution initiative tagged THE EMERGENCE PLATFORM